"Become Better" – applying Emotional Intelligence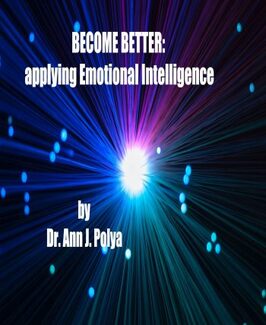 Strategic application of Emotional Intelligence allows us to "Become Better". Practice hones and strengthens our Emotional Intelligence skills so that we know who we are and what we want, and how to get there. This helps us in our daily lives; moreover, we are better equipped to handle uncertain times when we cannot just rely on what we did in the past.
What does Improved E.Q. mean?
Improved E.Q. capacity means we are more aware of our feelings, and have the capacity to control them. Furthermore, it allows greater awareness of our thoughts, and focus on our goals. Clearly, this improves our communication, and we can relate better with our family and special people in our lives, for instance. This is demonstrated in UTube video.
Each book by Dr Ann Polya illustrates aspects of self-improvement, and how to handle emotional intelligence. After all, we all have has emotions and Emotional Intelligence to understand  meaning, value, and the importance of something to us. Consequently, improving our Emotional Intelligence gives us huge advantages. Thus, strategic application of Emotional Intelligence allows us to master our feelings and thoughts, and, even more importantly, balance our approach.   
In conclusion, strategic use of Emotional Intelligence is critical to make balanced decisions. Since, it allows us to assess our emotional  and logical reasons to take actions. Indeed, we can use our emotions constructively as a positive force to be more agile and adaptive.
In this way, we improve our ways of coping and handling uncertainties. Above all, by using these enhanced emotional intelligence skills we can handle new challenges in our future. Plus, it will differentiate us from robots and artificial intelligence that will prevail in our future world. 
What Customers say
"In her latest book, the author provides a step-by-step guide to building our emotional intelligence, and applying its lessons to living our best lives in a rapidly changing technological world. A great read!"
– Doug Ramsey, Author, "The Corporate Warriors"
~~~~~~~~~~~~~~~~~~~~~~~~~~~~~~~~~~~~~~~~~~~~~~~~~~~~~~~~~~~~~~
"The Pandemic has shaken our sense of the world around us, and how we relate to one another.  This latest work by Dr. Polya, 'Become Better', is just what we need to help us regain our footing as we enter the new post-pandemic "normal"."
–Ansis M. Helmanis, Esq.
~~~~~~~~~~~~~~~~~~~~~~~~~~~~~~~~~~~~~~~~~~~~~~~~~~~~~~~~~~~~~~
"In a world that has many uncertainties, the author describes how to adapt and cope using our feelings and rational thinking by applying our Emotional Intelligence skills".
-Cammi Werling, Licensed Interior Designer, Cammi Werling Designs.
~~~~~~~~~~~~~~~~~~~~~~~~~~~~~~~~~~~~~~~~~~~~~~~~~~~~~~~~~~~~~~
For more: – Press Release, and  Podcast
© Dr Ann J. Polya, 2021