In her latest book, "Become Better", Dr. Ann Polya illustrates how to use strategic emotional intelligence to overcome stress and succeed. Indeed, she emphasizes that it is  "…more important than ever to apply Emotional Intelligence to cope with any changing circumstances".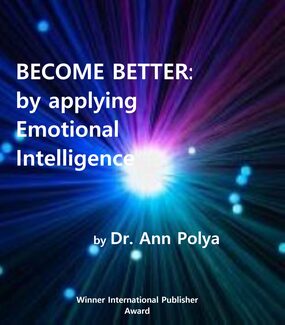 Polya began the book when the Covid pandemic turned our lives askew; with countless restrictions and risks. She realized that we can use our Emotional Intelligence more strategically to boost our socialization and effectiveness.
Strategic Emotional Intelligence
Strategic use of Emotional Intelligence is critical to make balanced decisions and we can use both emotional and logical processes to take actions. It creates a path to be alert to our feelings and thoughts and keep them focused on our goals. This way, we have meaningful connections and choices to communicate effectively and cope successfully with challenges.
The great news is that by using our Emotional Intelligence skills strategically, we gain a competitive edge over devices of the future, such as robots and super computers, as they cannot reconcile feelings with rational processing.
Success from within
"Become Better" reflects how success comes from using our Emotional Intelligence strategically to be more aware of our feelings, and have the capacity to control them and focus on what we want to achieve. We communicate and relate better as our communication is understood and we can direct others more successfully. Strategic use of our Emotional intelligence also helps us new challenges and cope well with emotional stressors.
"Become Better" draws on this research, as well on Polya's experience and behavioral expertise to show us a road map for all of us who want to develop their skills, and be in charge of our lives- irrespective of the obstacles.
Greater Balance in our Lives
Applying Emotional Intelligence allows us to balance our emotional and our rational side. Above all, this allows us to move towards our key goals. For Video 
In addition, since our future will be dominated by relatively emotion-free robots and artificial intelligence, acquiring enhanced EQ will give us a huge competitive advantage.
We all have Emotional Intelligence, and if we use it more frequently it gets stronger, and we feel empowered. This helps us in our daily lives to communicate more clearly and relate well with others. See Press Release. 
As indicated in Become Better podcast. in this way, we improve our ways of coping and handling uncertainties. Above all, by using these enhanced emotional intelligence skills we can handle new challenges in our future. Plus, it will differentiate us from robots and artificial intelligence that will prevail in our future world. 
Reviews
"… a step-by-step guide to building our emotional intelligence, and applying its lessons to living our best lives in a rapidly changing technological world. "— Doug Ramsey, Author, "The Corporate Warriors"
~~~~~~
"The Pandemic has shaken our sense of the world around us, and how we relate to one another.  ..this …  work by Dr. Polya, 'Become Better', is just what we need to help us regain our footing as we enter the new post-pandemic "normal"." –Ansis M. Helmanis, Esq.
~~~~~~~
"The self-help book "Become Better" proposes a road map to cultivating deep, far-reaching emotional intelligence." – Clarion Review
~~~~~~~
"…a well-written exploration of how developing EQ skills can better our lives." – Blue Ink Review
This is Dr Polya's fourth book, and each book illustrates aspects of self-improvement, and how to handle emotional intelligence. Since we all have emotions and Emotional Intelligence, simply making them more effective will improve our lives to build "Mind over Matter", have an "Invincible Summer" and overcome obstacles and build our "Brain Fitness". 
© Dr Ann J. Polya, 2022